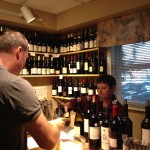 My friend Laura and I kicked-off our weekend the other Friday with a Sonoma wine flight tasting at Water Tower Wines in Mt. Washington — an eastside suburb of Cincinnati. It was our first visit to Water Tower Wines after hearing about their Friday evening tastings on WVXU — our local National Public Radio station for YEARS! Water Tower offers a very casual atmosphere, age-diverse crowd of friendly fellow patrons, lovely guitar standards being played live in the "main sitting room," two fabulous hosts, and some GREAT wines!
We tasted a total of three white (Chardonnays) and five reds. Neither Laura nor I are fans of Chardonnay, but we gave everything a chance. The first tasting — Folie a' Deux  2012 — a Russian River Chardonnay was the best of the three (Laura agreed). Not too "oakey" which is usually my problem with Chardonnay. It was soft and delicate — plus, it was on sale for $15.99 (regularly $24.99)!
But let's focus on our favorites — the REDS!  I'd have to say, it was a close race for first between the Eco Terreno Vine Three Vine Red Alexander Valley 2010 ($21.99) and the Wisdom Bwise Red Wine 2010 ($22.99).  In the end, the Eco Terreno with its blend of Merlot, Cabernet Franc, and Petit Verdot — a perfect combination — was the clear winner!  It definitely left me wanting more!  So with the Wisdom Bwise in second, that left the Buena Vista "The Count" Founders Red 2011 ($19.99) in third. I should note that Laura would likely switch the placing of these three reds. She really liked "The Count" and may have bumped it up to first or second with Wisdom coming next and then, my favorite, Eco Terreno. Goes to show how even smart women with "good taste" differ when it comes to wine! 
Two of the fellow patrons we met and talked with briefly (I think they were on a date, so Laura and I really didn't want to disturb them — plus, we wanted to catch up on the past two weeks of our own lives) — anyway, they shared that a renovation to the building was coming soon.  As they informed us, the second story will either be closed to the public or removed and a whole new, one-story space added which will transform the existing space. This is great news as the building, furniture did feel a bit tired and could use some updating.  It was interesting to taste and sit amongst the expansive wine selections which are stored and displayed throughout this Queen Anne home-turned wine store.  All in all, Water Tower Wines is a very cozy, friendly spot to sip some wine with a friend and possibly meet a new friend or two!
Whether you're an Eastsider or not, come support this locally-owned, Cincinnati jewel.  Attend a future tasting, get your weekend started off right, and discover some great new, wine-favorites for yourself!