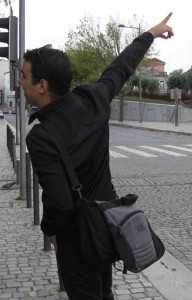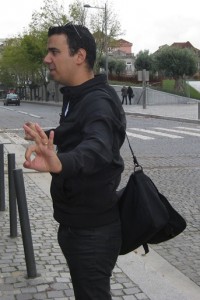 Oporto, or Porto, is the second largest city in Portugal. It's located on the coast about a two and a half hour train ride north from Lisbon. It's a very walkable city — which we learned by taking part in a Taste of Porto Food Tour (www.tasteportofoodtours.com). Our energetic guide André provided the perfect introduction to this wonderful city. Our tour group consisted of only six wine bloggers, a perfect size to get acquainted with Oporto and one another.
We began our tour at the most northern stop — Loja dos Pastéis de Chaves. Pastéis is a buttery, flakey pastry with options of sweet or savory fillings. We were served smaller than normal portion sizes to make room for all the other tastings planned during the tour. One pastéis was filled with chocolate and the other with mushrooms and onions. Several napkins were required and I'm sure they had to run the vacuum after we all left — we were all covered in pastry crumbs.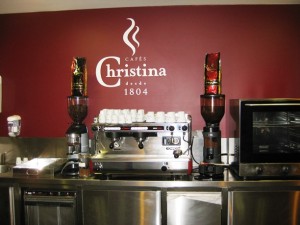 A short walk from Loja dos Pasteis de Chaves in direction of the river brought us to the Mercado do Balhão area and Café Christina. Café Christina opened in 1804 and is a perfect example of the cafés one can pop into all over Europe for a quick and cheap caffeine buzz! It was cafés such as this that the founder of Starbucks visited all over Europe and which led Americans away from cheap diner coffee into the cozy-cool, coffee house phenomena that we all know and love today. The coffee roasted on site was fantastic and fueled us for more walking.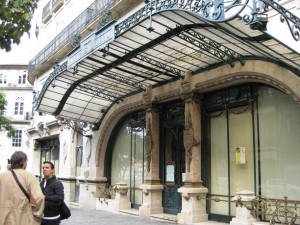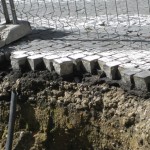 On the way to our "lunch" stop, we passed by an unfortunately, all-too frequent sight in Oporto — a closed and empty storefront. André shared that this was a former, very popular café and that the entire Art Nouveau building was unoccupied. Many buildings in the heart of Oporto are suffering from this same situation. Owners are sitting on properties while the historic buildings begin to crumble from lack of maintenance and investment which only sends renovation costs skyrocketing. We did witness a few buildings being repaired and numerous Oporto city blocks were receiving beautiful new sidewalks and street pavers — clearly from a huge investment by the local government thanks to EU financing — or so we were told.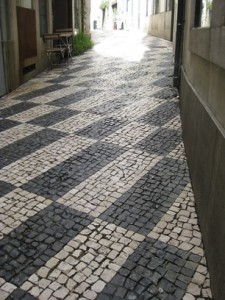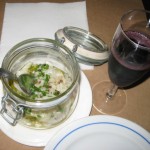 Lunch was served at Flor dos Congregados — a third generation, family-owned restaurant off an alley with the most fancy-pavers I'd ever seen. I have to add that this gem of a restaurant filled with Oporto history and charm — sits literally one block away from a huge McDonalds on the city's Liberdade Square. I could imagine the number of tourists that missed an opportunity to experience the real Oporto by not venturing one extra block off the main square. At Flor dos Congregados, I was served a traditional codfish dish while others on the tour sampled a slow-roasted pork sandwich on fresh-baked bread.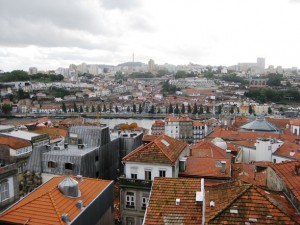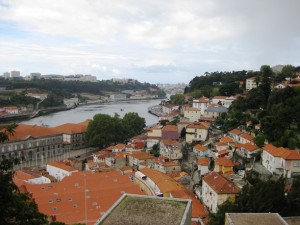 We strolled westwards to Leitaria da Quinta do Paҫo for some eclairs. My gluten-free option was a glass dish of strawberries in the cream they used for the eclairs. One word – decadent! We needed to walk again, fast and for some distance this time to burn-off some major calories from this tasting!
We ended our food tour at Taberna do Largo which was owned by two women and best known for their wines and foods from local producers. Nibbly-bits or small bites — whatever you would call them, in Oporto they are petiscos (trincas is term used for larger "bites" or tapas). Our petiscos at do Largo included olives, chorizo sausages, cheeses and other incredible and fresh local foods. We passed plates, taking seconds and thirds of our favorites as we sampled delicious Portuguese wines. It was a feast that none of cared to end! We thanked André for his fabulous tour. After spending the morning with him, I felt oriented and ready to keep exploring…well, maybe after a short afternoon nap!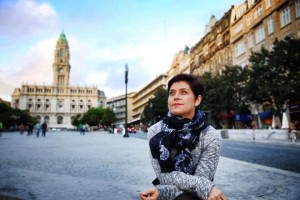 Disclosure: I participated in this Taste of Porto Food Tour as a part of a sponsored press trip of the region along with other wine, gastronomy and tourism bloggers from several countries.