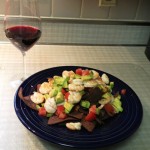 So here's how my husband and I celebrate Memorial Day Saturday Holiday when we DON'T travel from home. We both do our respective workouts in the morning (me=Jazzercise and Tim=gym and boxing). Then, we each run our errands (me=coffee with Laura then a bit of retail therapy and Tim=groceries for the week). We rendezvous back at the house and spend the remainder of the afternoon mowing, edging, weeding and making preparations for our deck renovation.
Now, the best part — grilling out and opening a bottle of wine. Tim recently recieved a shipment of wines from South Africa. As an appetizer, he grilled two, large portabella mushrooms seasoned with balsamic vinegar, garlic and salt. We toasted our portabellas with a 2011 bottle of Kanonkop Kadette from the wine region of Stellenbosch, east of Cape Town. It was THE PERFECT wine to go with our mushrooms. It smelled and tasted fantastic — perfect blend of spice and fruit!
The text on the back label made the food suggestion that the wine went well with meat, pasta or spicy dishes. I had prepared my own take on nachos — using my favorite spicey, blue corn chips as the foundation, I added grilled shrimp that had briefly marinated beforehand with lime juice, sea salt and minced garlic. I tossed a diced tomato and avocado together with the shrimp when they were off the grill and piled it all on top of the corn chips. Only other seasonings were a few shakes of cayenne pepper and hot sauce. I must agree with the label's suggestion of "spicy dishes." My nachos complimented the Kanonkop great!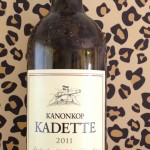 The bottle label also shed some light on the wine's name. "Kanonkop" means "Cannon Hill" and is derived from the days when cannons were fired to signal the arrival of Dutch trade ships into Cape Town Harbor. The cannon sketched on the front label, printed on the top-wrapper and in relief on the bottle itself — gave me a hint that there was some cannon connection.