I can't even remember how I stumbled across the web site and learned about the festival. I think it was the result of a crude Google search for "Swiss wines" + "Ohio River Valley." All I know for sure is that after last year's BYOB party and my wine-etiquette faux-pas, I wanted to make certain I brought a bottle of WINE this year! You see, living in Cincinnati — so close to Kentucky — several DWCC friends had mentioned in previous years that I should bring a bottle of Kentucky Bourbon to BYOB night. So, last year that's exactly what I did! I felt a little like a bottle-girl walking up to people and asking if they'd like me to pour them a shot, but long-time, DWCC good friends like Annette Schiller were very excited to sample my Kentucky brew!  However, most people politely responded with a "not right now, maybe later — after I've enjoyed some WINE!" Then, there were a very few people who just gave me strange looks that seemed to say, "You DO know this is a WINE event, don't you?!?"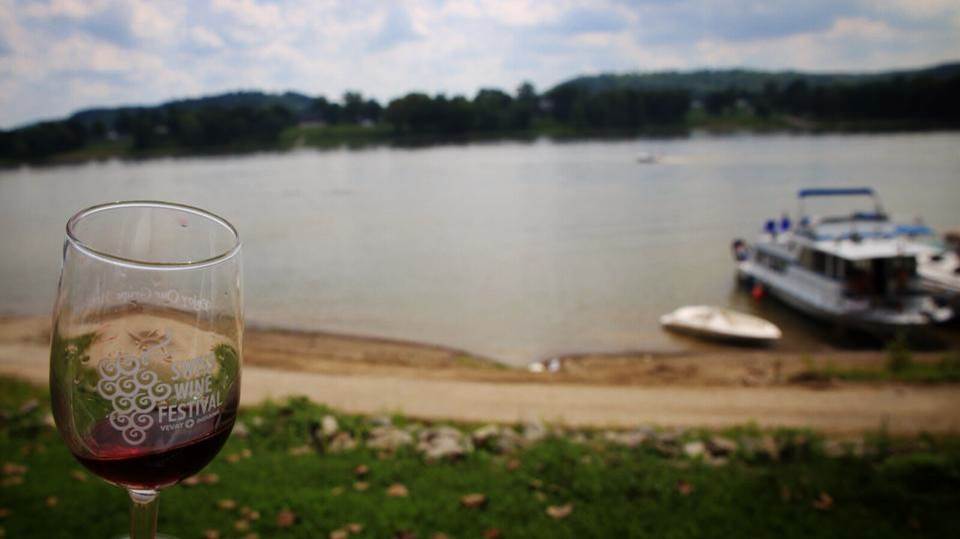 So to redeem my poor performance last year, I thought it would be quite appropriate to locate a wine associated with "Switzerland" County Indiana (not that there's anything actually "Swiss" about it) to bring to this year's BYOB event. My Google search landed me on http://swisswinefestival.org/Wine-And-Beer-Wine-Pavilion.aspx. I could not believe such a festival existed! What luck! Furthermore, Vevay, Indiana in Switzerland County located along the Ohio River was founded in 1813 by John James Dufour, Jr. who emigrated from Vevey, Switzerland — which is located less than 10 minutes north of Montreux the site of this year's DWCC on Lake Geneva! Monsieur Dufour settled and began cultivating grapes and producing wines in his new home. It's said that Vevay is home to the first commercial winery in the U.S. Facts I CAN verify are that Vevay is the county seat of Switzerland County and had a 2010 population of only 1,683 inhabitants.
With this discovery, it became mandatory that Tim and I attend the festival and experience Indiana's rich "Swiss" heritage to find our BYOB wines! After $5 for parking, $5/each for entry into the festival, and $15/each for entry into the wine pavilion — we were set to taste what southeast Indiana had to offer. In brief, we had to taste a lot of bad (in our opinion) wines before finding Winzerwald Winery's booth which was located in the far back corner. The nutcracker on the labels and Christmas tree bottle shape which held "holiday-themed" wine "flavors" made me a little trepidatious, but I was determined to leave with my BYOB wine!  ONE bottle — that's all I needed out of the hundreds available under that hot and humid wine pavilion tent! Actually, one very friendly, fellow-female, festival attendee tried to help by sharing with me that, "the peach wine over there is REALLY good!" I was on a mission! After much diligence, I tasted Winzerwald's Gewürztraminer and was very nicely surprised.  Its semi-dry floral notes were refreshing and tasty upon impact and left a good lingering aftertaste. Finally! I had found my bottle! Plus, the staff were very friendly — even aiming a floor fan directly at me while I was tasting to help me stay reasonably comfortable. It's not the greatest Gewürztraminer I've ever experienced, but quite respectable and, more importantly, it's not Bourbon! And, just in case you're curious, the cost was $16.97.
http://www.winzerwaldwinery.com/ is located about two and a half hours southwest of Cincinnati — about an hour due west of Louisville, Kentucky — in Bristow, Indiana. The winery is positioned in the Indiana Uplands American viticultural area (AVA) in the heart of the http://www.stateparks.com/hoosier.html. The 4,800-square mile AVA was just established in February 2013 and covers all or portions of 19 counties in south-central Indiana. The establishment of this AVA also modifies the boundary of the existing 26,000-square mile "Ohio River Valley" AVA to eliminate any overlap. Winzerwald is one of eight other wineries currently located in this AVA. Winzerwald describes themselves as a Midwest "German-Style Winery."  PROST!!!