Believe it or not, when I travel there's more to the trip than just drinking wine! Case in point, our visit to the Côa Museum (Museu do Côa) (www.arte-coa.pt) which we saw on our way to Quinta da Léda.
The Côa Valley is situated between the Côa and Douro rivers and served as a central meeting place for early man due to its rich resources which could support multiple tribes traveling to share knowledge, trade goods and find mates in order to survive and prosper. The Côa Museum is one of UNESCO's World Heritage sites and is the world's largest known open air paleolithic rock art site — being the home of more than 70 different sites displaying rock carvings spanning a period of 25,000 years. A majority of the works are Upper Paleolithic engravings, followed by those belonging to the Iron Age, Historic times and Late Pre-history, respectively.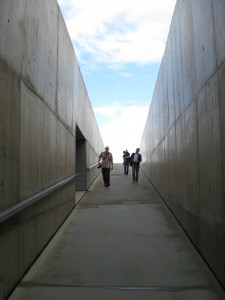 The museum itself is a blank, stone canvas — very modern and reflective of the rock walls upon which the thousands of aurochs, horses, sheep and eventually man himself were carved. It's art and history brought together. We had such a short time for our visit, but our guide did a remarkable job in sharing information and, more importantly, making us question and consider what these early "artists" might have been trying to convey in their carvings. It gave all of us a profound look at the history of early man and left us wanting to see more.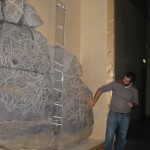 The Florida State undergraduate Art History major in me was soaking-up every second of this visit. Jean Auel's Clan of the Cave Bear series is one of my all time favorite reads. At the Côa Museum, I felt like I'd stepped back into Ayla's (the series' main character) time — it was such a short, but amazing visit. If you are traveling anywhere in the vicinity of Vila Nova de Foz Côa, make time to visit the museum and be sure to allot yourself a few hours to also hike and see a few of the carvings in their natural, in-situ settings.
Disclosure: I tasted the wines of the Douro River Valley as a part of a sponsored press trip of the region, organized by Greengrape (www.greengrape.pt), along with 12 other wine, gastronomy and tourism bloggers from several countries. My travel and accommodations were provided by the sponsor.