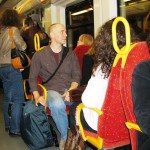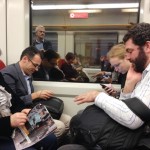 Our small group of wine bloggers had transferred trains only once after nightfall. Practically every other passenger from the crowds we had started-off with at São Bento railway station in Porto had reached their final destinations and left us. Train rides always make me feel like I've experienced time travel — and it's always a trip back in time — never into the future?!? This feeling is heightened when I have to sit in a backwards-facing seat.
My journey from Porto along the Douro River was no exception. It felt like the end of the line as we all disembarked at the desolate Aregos train station. The station's small depot was dimly lit with a handful of small industrial-looking lamps – resembling the reproductions available at Restoration Hardware. The only sounds were some barking dogs far off in the distance. We walked into the dark along a side gravel path through a picket fence. A few steps later, we were on a small country road and saw a middle-aged gentleman illuminated only by the tail lights of his fancy SUV. A chill was in the air as he directed us to pile into his car or the van behind us. Five of us followed him and climbed into the warm SUV. We started up the winding hillside away from the railroad tracks and river valley. It was all a bit unsettling. I mean, we wine bloggers have traveled numerous times together to places unknown, meeting strangers, trying new foods and tasting wine grape varieties of which we'd never before heard. We certainly are not a shy group – and always up for anything, but the time-travel train ride, late arrival in the dark, this stranger driving us to who knows where — it was all a bit odd.
After a couple minutes, my friend riding in the passenger seat asked our driver, "Who are you?" "I'm Tony Smith, owner of Quinta de Covela (www.covela.pt) and your host." It all sounded like a line out of the movie "Clue," but I exhaled an inaudible sigh of relief and angst was replaced by excitement for what Tony had in store for us – just around the next dark bend in the road…
Okay, so that's all a bit dramatic. But seriously, it happened just like that! It was an amazing beginning to our Douro Valley press trip. It felt like 2am when we arrived at the train station, but I think it was more like 7 or 8pm — you know how early the sun sets in fall especially on overcast, rainy evenings.
Tony drove us down a gravel drive and stopped at a very modern, suburban-looking, two-car garage. We got out of the SUV and beyond the garage, it was again pitch black, but we could see house lights in the distance and you got a sense that one step too far off the driveway might send you into a long, spiraling and painful fall all the way back down into the Douro River. After we were informed that this was the spot of our overnight accommodations, we claimed our luggage and headed into the house through the garage. The villa was actually more like a chic mixture of small, boutique hotel and B&B out in the middle of nowhere. Ours was one of three villas at Quinta de Covela that had been designed by José Paulo dos Santos, one of Portugal's most admired contemporary architects. Down a narrow hall lined on one side with dark stained wood closets were four doors which led into our hotel rooms. The spaces were of a very modern, minimalist concrete and wood design – just my style.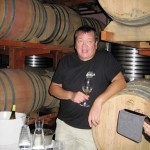 We unpacked and freshened-up a bit and then were transported to Quinta de Covela again via Tony and his SUV. We arrived well before the other group of bloggers, giving us a rare opportunity to spend some time getting to know Tony and how he came to be at Covela. With little probing, but a lot of earnest interest on our part, Tony shared about his previous life in publishing at Conde Nast. Although this career proved very successful, Tony wanted to achieve something more. After talking for awhile, Tony revealed that his father had started a plumbing (if I recall correctly) business that he turned into a life-long profession. Tony spoke of how his father put great value in an honest day's work and building something from nothing with your own hands. His father left a lasting impression on Tony – in that he wanted to make something, build something of value and impact. Call it a midlife crisis, change of heart, legacy-longing….whatever! Like many of us pondering our "next chapter in life," Tony went through his own version of this and decided that he was interested in owning and operating a winery – someplace, but where? After considering all options, the Douro made it to his short list. Finding Quinta de Covela available for purchase in 2011, ended his search.
At Quinta de Covela, Tony and his partner have turned around an idle and neglected vineyard that had fallen into bad times. He invited back the former winemaker, Rui Cunha, who wanted to see the winery live on and flourish. Tony, the Renaissance Man that he is, has recreated Covela, with the help of others, out of something that had once been. He returned the vineyard to production employing ten or so young locals and, in return, feeding the local economy through using the special talents and services of trades-people.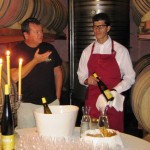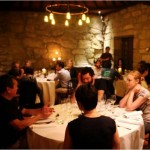 All this we learned from Tony in the time we spent with him prior to his welcome toast to the whole group and then again as we sat together at dinner later that night. It was the type of warm, open and honest conversation that feeds the soul. I don't mean to be all sentimental-mushy-gross. It truly was an evening both memorable and meaningful. We didn't discuss pop music, mundane celebrities, stupid divisive politics, rather, we listened to a story of one man warmed by a fire in Covela's stone central building while dogs lay sleeping at our feet and darkness blanketed all around us – keeping what lay beyond a mystery. That was my introduction to the Douro Valley!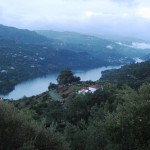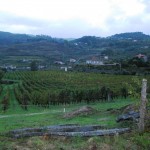 In the morning, the sun rose to reveal our first glances of the Douro Valley's physical beauty. The morning mist hung over the river and we were enveloped in peaceful quiet – except for the occasional barking dog. We walked this time the short distance from our overnight villa, past sleepy orchards and vineyards, and down Covela's rustic drive. Our appetites ready for a hearty breakfast and the start of our first full day as visitors to this amazing region, its people and its wines!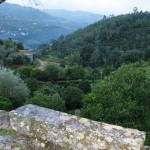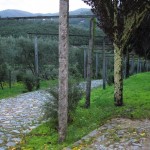 Disclosure: I tasted the wines of the Douro River Valley as a part of a sponsored press trip of the region, organized by Greengrape (http://www.greengrape.pt/), along with 12 other wine, gastronomy and tourism bloggers from several countries. My travel and accommodations were provided by the sponsor.