Our last stop in the Douro Valley was a visit and lunch at Quinta da Léda (www.sograpevinhos.eu) in the Douro Superior which is the most eastern of the three Douro Valley sub-regions and closest to Portugal's border with Spain.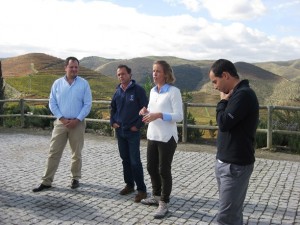 The winery is set way back from the main road down a very winding, but paved drive with steep drop-offs, no guardrails and sharp switch-back turns. Empty and unused pombals spot the hillsides where they long ago served as fancy, tiled-roofed circular homes for pigeons — a component of a traditional Portuguese dish. It was a bit of a nausiating bus ride, but we were greeted by a very friendly group of winemakers. Quinta da Léda has two winemakers to keep a high standard of flavor and style in their wines. One winemaker was older and one younger — not that their difference in ages was pointed-out as part of the tour, but I would imagine it plays an important role in creating a balance of new ideas and time-honored traditions when making their quality wine. Quinta da Léda used to be 50% Port and 50% Douro wines. This past year, they produced their own grapes and purchased some from surrounding farmers to result in about 30% Port and 70% Douro wines. The winery's opening is easily remembered — 9/11/2001.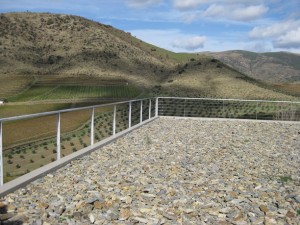 Upon our arrival, we were served a sparkling wine and some nibbly-bits which consisted of the most flavorful and delicious almonds. After a brief welcome, we enjoyed our refreshments and the view from da Léda's outside terrace. The terrain of this part of the Duoro Valley is quite arid. As I looked out from the terrace, I could imagine a cowboy riding his horse over the hillside in pursuit of a band of gruffy outlaws. They said it gets quite hot in the summer months — too hot to stand out like we were doing to enjoy the view for every long. More comfortable weather and few, if any, tourists = two perks of a fall visit to the Douro!
The quinta or winery facility is built into a hillside. The architect took advantage of the topography, so that gravity could feed the grapes from the surface collection hoppers down a series of floors to stainless steel storage containers for final shipping and storage off-site. After harvesting, trucks hauling carts full of grapes pull under a type of open, but covered car-port area where the grapes are dumped into a collection hopper and then gravity fed into vats for punch-over processing or stompers for punch-down processing.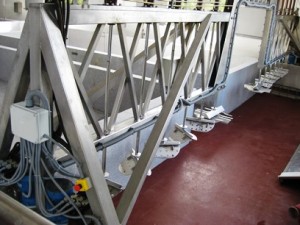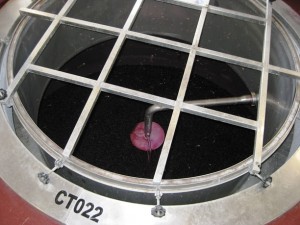 We took a flight of stairs down one level to take a look at these two different processing methods. The punch-down process is more violent and can not be used when the grape skins are thin due to the mechanical arms which "stomp" down the grapes. The day we were visiting, the grapes being handled were thin-skinned due to a season filled with lots of rain, so the punch-over process was demonstrated. A type of wine "sprinkler" system was turned on that pumped grape juice from the bottom of the vats and sprayed it out on top. The grape skins float to the top during this punch-over process resulting in a much more gentle way of separating or extracting liquid from the grapes. The winemakers use presses to squeeze out the remnants of the grapes to collect the last bit of wine. This most-concentrated wine is placed in barrels and used like salt and pepper for final flavoring and seasoning.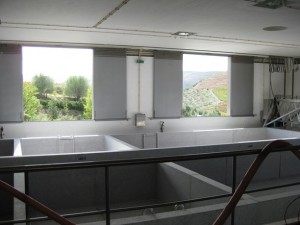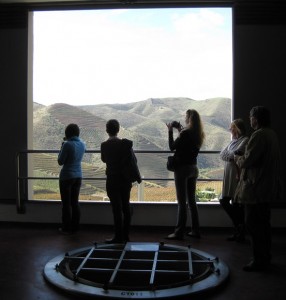 This level of the quinta was quite unique. Normally, every other winery tour I've been on took you through a series of windowless, cavern-like spaces filled with huge stainless steel vats. Unlike other wineries, Quinta da Léda has huge, screenless windows on three sides of the facility. The massive shutters were open wide to let in sunshine and fresh air which was a huge advantage for workers who spend long hours pumping and punching the grapes — especially during the hot summer months. With the gorgeous views just outside, the windows were very much like landscape paintings hung along an art gallery wall. So the quinta's design served both functionally and aesthetically in many ways.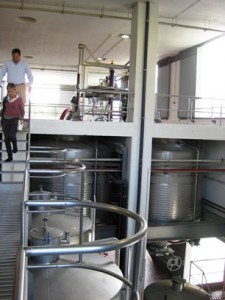 Our tour continued on down another flight of stairs to the next area so that the workers could get back to filling the punch-over vats. The pumps were super loud and filled the whole building like a busy manufacturing plant. I had recently taken a tour of the DHL shipping facility at the Cincinnati/Northern Kentucky International Airport back home and the series of steel walkways and stairs was very reminiscent of that tour. The whole space was open, so we could see the quinta's activities on all three floors.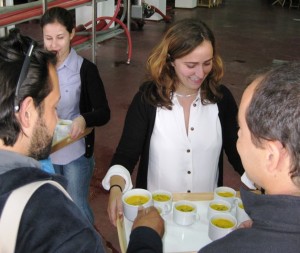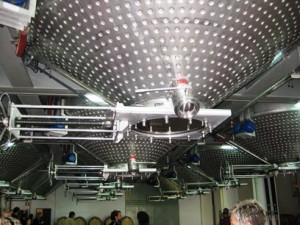 Our tour ended at the bottom level of the quinta with a lovely lunch served right beneath all the wine-making activity we had just witnessed. We were greeted with large cups of warm pumpkin soup. Above us, were the bottoms of the stainless steel vats with spouts ready for efficient conveyance directly into trucks for their transport to cooler storage locations off-site which were much more conducive to quality winemaking and final bottling.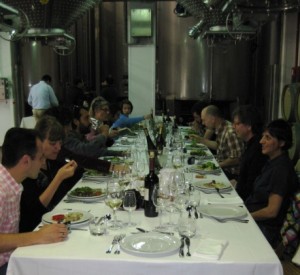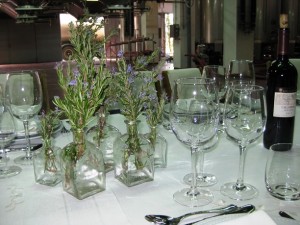 A long table was elegantly laid out for us to enjoy traditional Portuguese foods. I particularly enjoyed the salad course with fresh greens, apples, pomegranate seeds along with peppers, beets, green beans and mushrooms. Everything went very well with all the wines, although the Casa Ferreirinha 2010 Callabriga Douro a very flavorful red which reflected the dry, arid surrounding landscape was my favorite. We were sad to end our time so soon at Quinta da Léda, but we had to bid farewell to everyone and board the bus for our long, six plus hour ride to Logroño, Spain and the 2013 Digital Wine Communications Conference!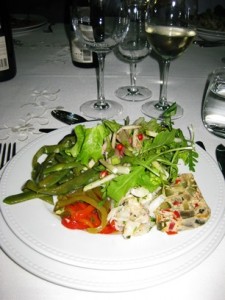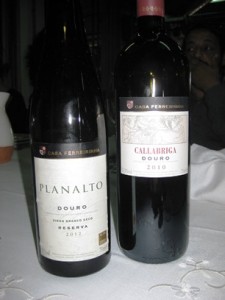 Disclosure: I tasted the wines of the Douro River Valley as a part of a sponsored press trip of the region, organized by Greengrape (www.greengrape.pt), along with 12 other wine, gastronomy and tourism bloggers from several countries. My travel and accommodations were provided by the sponsor.