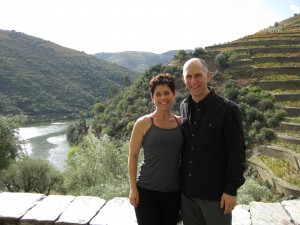 This past October marked my fourth consecutive year of ridiculous-luck in that I got to travel with my husband to visit an entirely new European wine region. 2013 was the year of the Iberian Peninsula!
Once I returned back home, my friends and co-workers asked, "So how was your trip?…Where did you go?…Was it wonderful?" My reply every time has been, "Hell yeah, it was wonderful!" — just being away from work and the daily grind is an absolute joy. Much, much more than a vacation away from the norm, this trip definitely had its high points and I must say the Douro River Valley was the tip-top pinnacle!
I've been telling everyone who will listen that if they have a chance to visit and have to pick between Portugal or Spain — CHOOSE PORTUGAL!!! I mean, Spain was nice with all its awesome tapas bars and Barcelona's enormous size and architecture would give NYC a run for its money, so I'm glad I got to visit for a few days…but Portugal — there's just no comparison. Hands down (and wine glasses down too) – I'd visit again in a heartbeat! Whether the urban-yet walkable city of Oporto or the rural setting of the Douro Valley, Portugal is a mixture of everything good — friendly people, rich history, beautiful architecture and country-sides, amazing variety of food and, of course, THE WINE! So, through a series of posts, I'll be sharing with you a few of the highlights of my Portugal visit along with specific locations and recommendations for you to consider if you're planning a trip sometime in the future (which again, I would HIGHLY recommend)!
Disclosure: I tasted the wines of the Douro River Valley as a part of a sponsored press trip of the region, organized by Greengrape (www.greengrape.pt), along with 12 other wine, gastronomy and tourism bloggers from several countries. My travel and accommodations were provided by the sponsor.