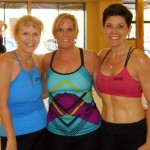 September 27th marked my tenth anniversary as a certified Jazzercise instructor. I'm not much of a "membership" type of gal. I was never a Girl Scout, never part of a sorority, nor do I subscribe to any religious affiliation. So, the fact that I've been a devoted member of the Jazzercise "cult" for over a decade now – is quite a milestone for me.
I didn't want to make a fuss out of my anniversary, so I thought the best way to celebrate it would be to share some lovely sparkling wine with my fellow Jazzercise girlfriends! So, I snuck out of my Associate Instructor, Lybra's Saturday 9:30am class to set things up and surprise the girls.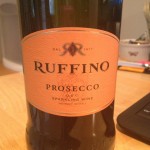 Here's the back-story to what I did…Earlier this spring, I'd seen a picture in some local Cincinnati fashion magazine while waiting at my hair salon. The picture showed a flute of champaign with a fluff of cotton-candy on the rim for some girlie flair. I thought this would be the perfect drink – minus the champaign, adding in some great Prosecco instead (my sparking beverage of choice!). Thanks to the Party Source in Newport, KY — right across the beautiful Ohio River from my office in Cincinnati — I picked up two bottles of Ruffino Prosecco for $9.99 each! A TOTAL bargain! Ruffino has a great taste and is slightly on the sweeter side which I thought the majority of the girls would prefer to a dry or Brut sparkling wine. The Party Source also had boxes of 10 plastic flutes and I splurged and spent the extra buck to get the ones with the bottoms attached. If you've ever used the cheaper ones, you know how those bottoms constantly slip off — so tacky and frustrating!
Although the wine was easy, the cotton-candy required a bit of hunting. I first checked Super-Walmart in Fort Wright, KY — they had plenty of Halloween candy, but no cotton-candy. The check-out clerk said that the Subway in the store had sold cotton candy in the past, so I stopped in. Not being a fast-food patron, I was shocked to learn that some Subway franchises do offer cotton candy using their own equipment on the premises. Unfortunately, none was available, but the sweet Subway gal directed me to a corner store near where she lives in Downtown Covington. Not knowing how much I'd need, I bought 3 packages. (Hindsight, one package will suffice with plenty still leftover!).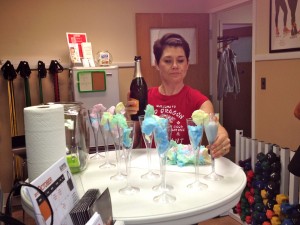 So, while the girls were finishing up Jazzercise class, I put a fluff of cotton-candy inside and on the rim each of the flutes. Once class was over, we gathered everyone in our little office and popped open the Prosecco. That's got to be one of my favorite sounds – so fun and festive! I poured the wine in each glass. The cotton-candy came in green, blue, pink and yellow colors — so each glass of wine took on a different fun color. The girls LOVED it!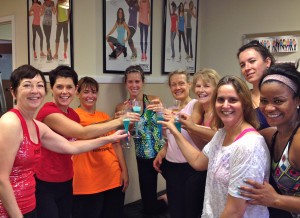 We made a toast to Lybra for her belated birthday, to me and my 10th anniversary and to all of our awesome Downtown Jazzercisers for giving us the excuse to open a great bottle of sparkling wine and make a normal Saturday morning workout very, very special!