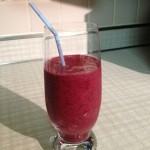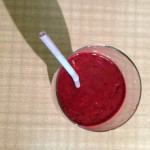 Alright I'm under three weeks now until we leave for Spain and lots of wine, food and no regular Jazzercising! So, I'm continuing to "sprinkle" in some extra vegetables into the day via yet another yummy juice smoothie.
I love beets! From what my mother tells me, I've loved them since I was a baby. So when I found this recipe in the September 2013 Cooking Light Magazine, I had to try it. This one is my favorite so far! I mean how can you loose with all the fresh blueberries and raspberries! The rooty, earthy flavor of the beet does come through. The color is so dramatic too thanks to the beet! You can buy pre-cooked beets, but they are super easy to prepare. Simply boil them in water like you would an egg or potato. When you can insert a fork easily, they are done. Strain water and let them cool, then peel off the outer skin like paper and voila!
I forgot to buy orange juice, so I substituted with some of the carrot juice I have left over from the Carrot-Ginger Juice Smoothie recipe. I'll definitely try this again with OJ!
You don't add any ice to this recipe, so I did use frozen raspberries and my beets, carrot juice and agave nectar were all chilled from storage in the frig. However, I think I would have liked the drink even more if it'd been even colder, so I might add a few cubes next time I make it.
Here's the recipe (219 calories):
1 cup (a whole clear plastic box container) of blueberries
1/2 cup frozen raspberries
1/3 cup sliced beets (one small beet)
1/4 cup nonfat Greek yogurt
1/4 cup orange juice
1 tsp light agave nectar