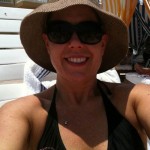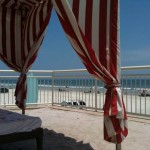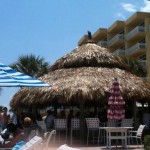 Sitting on my deck in my sundress and new purple flip flops as the sun goes down has me fantasizing about long-weekend trips to the beach. Two such trips come to mind and, come to think of it, both happen to have occurred exactly one and two years ago THIS weekend!
In 2011, it was a girlfriend beach trip to Daytona Beach, Florida. And just last year, I hit the west coast of Florida and beautiful Naples with my husband. Based on these two trips, THIS weekend, the one just prior to the Memorial Day Weekend, I have determined to be THE BEST for a beach-bound trip here in the States. No crowds, few kids and families, and perfect — warm, but not hot, weather! You can't do much better than lying on the beach and not breaking a sweat!
But this year, due to two, big trips — the North American Wine Bloggers Conference coming up in two weeks in Penticton, British Columbia and the European Wine Bloggers Conference this October in Rioja, Spain – I had to watch my allotment of vacation time and so it was the beach trip that had to get cut.
I want to stay focused or else this post is NEVER going to get to the "wine part," but real quick let me share the hotels we stayed in during both trips because both truly rocked! In Daytona, it was The Shores Resort & Spa (http://www.shoresresort.com/). In Naples, it was the Edgewater Beach Hotel (http://waldorfastoria3.hilton.com/en/hotels/florida/edgewater-beach-hotel-a-waldorf-astoria-hotel-APFEBWA/index.html/).
Okay, now to the wine part of the story. Although not a traditional Daytona Beach liquid refreshment (that'd be beer), I drank white wine, of course the more natural accompaniment for ice cubes and hot summer weather while relaxing on the beach. Since glass was prohibited at the pool and sandy beach, I kept the bottle of Cono Sur Sauvignon Blanc in the hotel room and transported it using an empty, plastic water bottle. I would repeatedly get ice from the Palapa Tiki Bar and was good to go! The ice slowly melted and watered- down the wine a bit – no not tacky – it was wise! One must pace oneself while on vacation and not get carried away. With the melting ice, the wine kept cool and I could enjoy a favorite wine throughout the long, sun-filled, relaxing afternoon and still be able to get cleaned-up and make it to dinner when the sun went down. Previous blogs share my love of sangria red and white — so no haters please who love reds and feel you need to educate me on the greatness of reds and ice. I'm already a fan! However, in a hotel room, without a kitchen and proper equipment, plus – HELLO!?!? — I'm on vacation, the LAST thing I want to do is spend time putting together sangria. The Cono Sur was readily available at the nearby liquor store and easy-peezy – simply open bottle and serve! I gotta add that the Cono Sur went great with the hotel's Grouper Tacos with chipotle dipping sauce and Coriander Seared Tuna Tataki with wasabi-yuzu dressing… two great and light ocean-side, vacation fare!
With this great 2011 summer vacation and beach-side wine-drinking skills under my belt, I was feeling confident about my Naples trip last year and thought I had it all figured out – HA! Allow me to share my experience, so that you may avoid the same thing or worse… a trip to the emergency room!
My problem in Naples was that I had traveled to Northern Italy in the fall of 2011 which had created a love affair for sparkling wine (that still lasts to today, I might add). It's true, Franciacorta won me over. So in May of 2012, I was blind to any other wines when given the chance to choose my preference. So, without thinking, I grabbed three bottles of Cava at Publix to enjoy while basking in the Naples sunshine – it was a long weekend trip, so relax! Again, I had my empty, plastic water bottle. At the beach, when I reached in my bag and pulled-out my "wine" bottle, I did notice it seemed really taught and full. But I shrugged it off, thinking it's the bubbles – like a bottle of soda – and that it had just got a bit shook-up on my walk down from the room. I slowly and carefully unscrewed the bottle cap, so that I wouldn't get a fountain of wine all over me. At the last moment, as the last screw thread cleared, the top went flying like a bullet (I still don't know where it landed). My hand got a little blasted, but no damage thank goodness. Our sunning-spot was on the edge of the hotel beach property, so fortunately no other guests even noticed my "wine" explosion and all eyes escaped being shot out.
So word to the wise – DO NOT MIX sparkling wine with plastic screw top bottles! Learn from my pre-Memorial Day Weekend beach trips and stick to "flat" whites. I did quickly recover from this harrowing experience by drinking my Cava (I mean, I couldn't replace the top, so had to drink it before the bubbles disappeared!) and jamming to Beyoncé! …oh yes, and don't forget the sunscreen! Cheers!