…Their own homemade qvevri wine, of course!
It being Christmas Day, I thought it would be quite appropriate to recount my visit to the Alaverdi Monastery which occurred back on November 15 of this year. This monastery is located in the Kakheti region about an hour or so outside of Tbilisi– the capital of Georgia. As you can see from all my photos, the weather was quite overcast and chilly during our fall visit.  However, on a clear day (we were told), one can clearly see the breathtaking Caucasus mountain ranges at the foot of which the Kakheti region sits. Eighty percent of all Georgians are Orthodox Christians and share in today's holiday.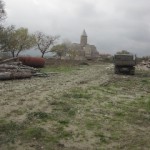 Alaverdi dates back to the 11th century (1011 to be exact) and continues to serve as a residence for male religious, cathedral for the community and, most importantly, a winery!
The cathedral can be seen from quite a distance being surrounded by open, flat vineyards and other crop fields.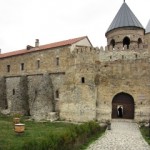 The grounds are entirely surrounded by a crenulated, brick and stone wall. Although the wall is in much need of repair, it still makes quite an impression as you approach the large, turret-topped entry. Not that it ever was, but I could easily imagine the monastery being "once-upon-a-time" encircled by a moat!
As if the massive structure and fact that we were entering a monastery wasn't unsettling enough, we ladies learned upon reaching the entryway that before we could take one step further, we needed to don head-coverings and lovely, wrap-around, long "skirts." These modesty coverings were provided on a rack by the entry for women to borrow during their visits. Of course, we wanted to be respectful and did as we were told. It's not like we were giving up our right to vote and own property. Actually, the clothing provided an extra layer of warmth, so we weren't too worried about making a fashion statement!
Leaving the entry behind us, we walked up to the cross-domed, Alaverdi St. George Cathedral. A mass was in session, so we couldn't go in, but we were able to imagine what the cathedral once was by viewing frescoes which had been carefully uncovered around the exterior façade. The cathedral's namesake – St. George appears atop the entrance. The cathedral has witnessed a number of restorations due to wars, earthquakes and through centuries of normal aging and deterioration.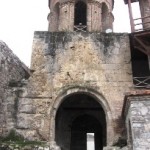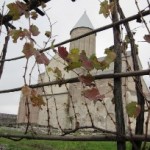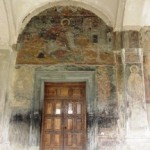 Inside the walled monastery, there were open grassy areas where buildings once had stood.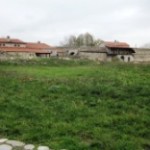 We strolled along a stone pathway to reach the winery.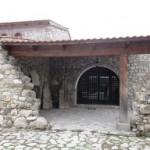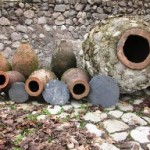 Old qvevri once used in the monks' traditional wine-making process "decorated" the exterior of the winery. Qvevri are earthenware vessels which are set into the ground to store the wine during fermentation and as it ages. The qvevri wine-making method is attributed to this very region of Georgia and dates back to 8000 BC. The ancient existence of qvevri is one of the reasons many point to Georgia as the "birthplace" of domestic wine-making. The monks at Alaverdi continue to use qvevri in their winemaking to this day. They combine this traditional process with modern technological advances to produce their wines.
After a tour of the grounds, while standing in a beautiful outdoor "patio" area, we sampled many of the monastery's wines al fresco. Due to the chilly weather, it was too cold to take tasting notes and the reds were a bit below preferred serving temperatures to really do them the justice they deserved…however, my memory is of very clean, simple and clear-tasting wines that had been produced with so much care and devotion. The monastery does not produce a great number of bottles, so it was with great appreciation and respect that we were able to sample these rare and unique wines.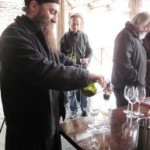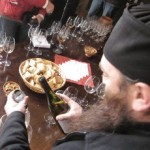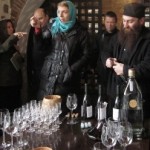 After our tasting, we toured the monastery's farm, "Taplikatsi." "Taplikatsi" is equipped with modern technology to produce ecologically pure honey. For once during our visit, we were grateful for the cold — because it made the honey bees extremely docile and uninterested in us as they swarmed around our heads!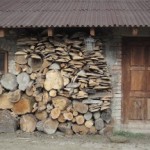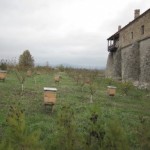 I have no doubt that the wise and pious monks at Alaverdi set aside some of their daily labors today and enjoyed some of their traditionally-made qvevri wine to celebrate and honor this holy holiday that's shared by so many around the globe! To my fellow EWBC Georgian travelers and to all of you — გილოცავ შობა!
Disclosure: I tasted the wines of Georgia as a part of a sponsored blogger tour of the region, organized by  Georgian Wine Association.  My travel and accommodations were provided by the sponsor.