When people ask me what my favorite wine is — I reply immediately, "Sparkling!"  It's been this way for me since the 2011 European Wine Bloggers Conference in Brescia, Italy where I tasted Franciacorta wines for the first time.  I became an instant fan.  The chill of the glass, the bubbles zooming to the top — it's a New Years Eve countdown celebration anytime you want one! 
Since Brescia, I've drank countless Prosecco and Cava wines back home in Cincinnati because (a) I can't get my hands on any Franciacortas…so sad and (b) Prosecco and Cava aren't too shabby!  So, when I saw that we'd be visiting  a Sparkling wine producer while in Tbilisi, Georgia this past November, I was super-duper excited!  So, I thought I'd share my Georgia Sparkling Wine story…
After a short drive from our Tbilisi hotel, the bus pulled up to a fortress of a property enclosed by a stately fenced surround.  The automatic arm at the front gate and guard-house lifted to reveal what one would have guessed to be a government facility constructed in a very austere, marbled, neo-classical style.  The building was void of any character and gave off a rather formidable, and cold impression.  All of us on the bus were asking, "Is this the place?!?"  Indeed! It was the home of Bagrationi Sparkling wines (http://www.bagrationi.ge/?plan=en).  So, as night fell, we disembarked from our bus and entered through the structure's columned facade.  The entry was two stories topped by a domed ceiling. Two, arched stairways flanked each side wall and normally would have served as warm and welcoming, symmetrical, open arms to transport visitors up to the second floor gallery.  Instead the menacing, dark wood paneling and bannister and a slightly bad, moldy smell accosted our senses.    
We were taken on a tour of the facility.  I took a few pictures, but the building was so stark and dark, only one turned out — back to that in a bit.  During our tour, we learned that the building was constructed in 1937 by the Soviets during their occupation and control of Georgia.  They wanted to do something on a similar scale to what Henkell was doing at the time (BTW: this sparkling wine producer is still in production today as the Wiesbaden-based Henkell & Co. Group — its history dates back to 1832 when Adam Henkell (1801 – 1866) opened a winery in Mainz and started producing sparkling wine in 1856. http://www.henkell-sektkellerei.com/en/henkell-co).  Back to present day,…the Soviets build this cold, austere facility which at its peak produced 23 million bottles of Sparkling wine a year!  All I could do was picture hundreds of Georgians slaving away during 14+ hours a day to produce Sparkling wine for their Soviet oppressors!  (We were told all of the wine produced went to Soviet elites).  This history lesson seemed to explain why the facility seemed so foreboding and heavy.  It all combined to create the complete WRONG environment for producing beautiful, light and airy Sparkling wines.  There was no joy, no celebration!  At least I felt none.
After the tour, we proceeded to the second floor gallery and tasted five or six different Bagrationi Sparkling wines. I think you can easily imagine that my mind was NOT in any place to be open to liking these wines.  I did struggle to keep an open mind and palate as I tasted the wines. 
I would say that out of all of the wines, the one I like the best was the Bagrationi Classic Semi Sweet.  I share a bit of details about this wine from the information sheet provided.  The Classic incorporates a blend of Chinuri, Mtsvane and Tsitska grape varieties grown in vineyards located in Kartli and Imereti.  All of the grapes were hand-picked, hand-sorted and whole cluster pressed — following the original Champagne method.  The clear juice was fermented at a very low temperature with selected yeast strains to preserve the inherent fruit flavors but with a degree of grape solids incorporated to aid texture and complexity.  The Classic was just that not too sweet.  It also had good bubbles, not flat and a nice flavor intensity.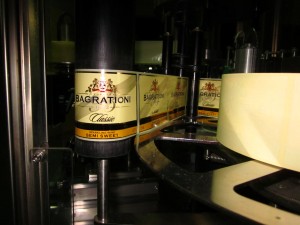 I mentioned earlier that only one of the pictures I took at Bagrationi turned out.  Well after returning home, I found it a little unsettling that the only picture that was okay is one I took of the Classic bottles resting in the labeling machine!  That means my only decent picture was of my top pick from the tasting?!?  Kind of eery-weird, yeah?!?  A ghost of an old Soviet producer must have seen me and decided, "You didn't like my wines, then pooh on you!  I give you one picture for your blog…one picture, I say!  Now, das-vidaniya to you!" 
I believe that I wasn't the only one to feel this way. Unlike all the other visits we made while in Georgia, I think all of us were anxious to leave Bagrationi behind us.  A couple of days later, I was reminiscing about our Bagrationi visit with a fellow wine blogger friend of mine.  We were both saying what a creepy place it was and that it was really the only disappointing wine we tasted during our entire time in Georgia.  I summed up what I learned from our visit to Bagrationi by blurting-out, "Bad vibes do NOT make good bubbles!" 
So with New Years around the corner — I wish you lots of love and Soviet-free, happy, cheery, bubbly good times shared with great friends!  CHEERS!
Disclosure: I tasted the wines of Georgia as a part of a sponsored blogger tour of the region, organized by  Georgian Wine Association.  My travel and accommodations were provided by the sponsor.