Just outside Tbilisi, the capital of Georgia, lies Château Mukhrani.  The Château was founded in 1878 by the Prince of Mukhrani, who was an heir of the royal family of Georgia.  The Château is referred to as a royal palace and holds the title of the oldest such structure in Georgia.  During the former Soviet Union's occupation of Georgia, the property was completely abandoned.  The property was purchased in 2003 by a group of Georgian investors.  Property renovations and re-establishment of the vineyards were begun immediately upon their possession.
I traveled to Château Mukhrani with 25 of my EWBC fellow bloggers. Our bus pulled-up the drive and parked between the new, modern winery and horse barn.  One of the investors, a very nice Tbilisi businessman whose name I unfortunately did not note down, greeted us and began the tour by walking through the horse barn.  The winery owns about a dozen horses — a combination of Arabian, English and mixed breeds – all gorgeous animals!  The exterior construction of the barn was beautiful too and I kept seeing this same application of stones, bricks and tiles in walls and homes during our travels over the next two days throughout the Georgian countryside.  The stones are mixed-in with the soil and their light color can often look like trash or liter along the road side.  My guess is that the proliferation of the stones have made them an accessible and inexpensive construction material for structures of all kinds throughout the region's history.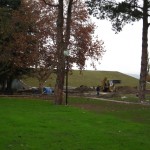 It was nice to see the mix of traditional building construction along with the modern techniques of the winery.  The owners have built a "green roof" atop the winery both as an environmental-friendly construction method to conserve energy and also as a unique point of detail for future visitors.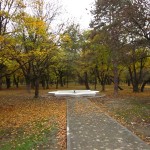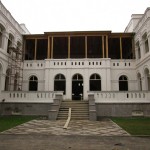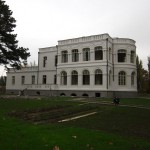 The Château itself is being completely rebuilt with four apartments, large entertaining space, as well as full cellar and tasting room.  Owners have plans to host a Jazz Festival in 2013 on the Château's grounds, so the push is on to complete the main palace and ground renovations.  The Château faces a wooded area and fountain – very picturesque even in fall with the leaves' yellow, orange and red colors.  The venue is intended to draw guests, visitors not only for the wonderful wine, but also for special occasions such as weddings and other large events.  Future plans include building a hotel, tennis courts, pool and golf course.  This level of planning and investment can be seen in and around Tbilisi, as people consider the untapped resources and opportunities Georgia possesses – especially in relation to their wine history and traditions.
Some historians attribute Georgia as the "birthplace of wine" meaning there is an abundance of evidence which supports that the domestication of wild, native grape varieties (over 525 different grapes) occurred in Georgia centuries ago and that all wines which we enjoy today, produced throughout the world, began here in the cradle of the eastern Black Sea region.
Today, the Château is boarded by its vineyards which comprise the majority of the property.  One hundred percent of the grapes used in Château Mukhrani wines are grown on the property.  The vines are treated only manually. Crop size is controlled by pruning and other "green" methods.  The partner who took us on our tour of the property bragged that they held a 15 minute goal for the maximum time spent from harvesting the grapes to unloading and crushing at the winery facility. The vineyards are located adjacent to the winery, but still that is a remarkable wine production goal.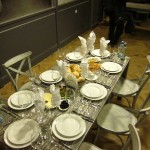 After touring the grounds, we were led underground through the Château's newly bricked and still being mortared cellar to the modern winery building for lunch and a bit of tasting.  Yes, of course, I'll share my tasting notes!  I'll start by saying that I thoroughly enjoyed the wines.  Each was clean, fresh and honest!  They weren't complicated and fussy.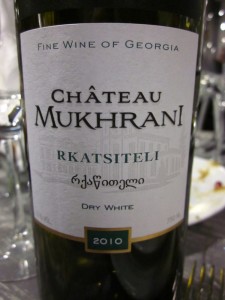 Our first wine was a Rkatsiteli which translates as "red shoot" in Georgian.  After winter, the Rkatsiteli are the healthiest and first shoots to appear and, of course, they are red in color!  It's a great white wine made/aged along with grape pieces, skin, seeds, etc.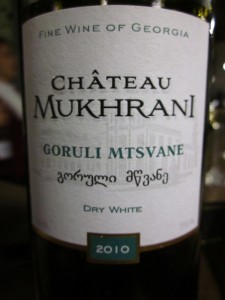 The second wine was a delicious Goruli Mtsvane.  That's all the notes I took – LOL!  I must have started eating aubergine and cucumber/tomato salads!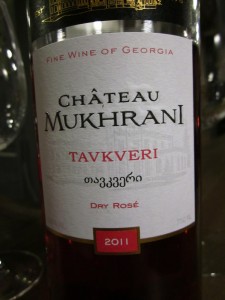 The third wine was a Tavkveri which had an autumnal smell like fallen leaves and brush fire smoke.  It had a simple taste, light and very easily drinkable.  The Tavkveri vines grow big berries, so they don't possess a dense flavor concentration. Tavkveri translates as "hammer head" due to the shape of the grape or vine, I'm not sure.
The fourth wine was a Shavkapito which translates as "black head" in Georgian. The taste was pleasant and smooth with a good oak flavor, not overly strong – just a hint/touch of oak which is what I prefer in most wines that I would choose to drink on my leisure.  I think this was my favorite of all the Château Mukhrani I sampled.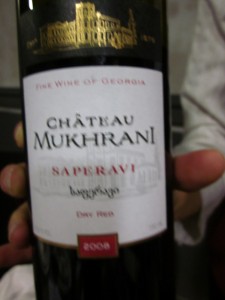 The fifth wine was a Saporavi.  This was the preferred red by the majority of the wine blogger friends sitting at my dining table.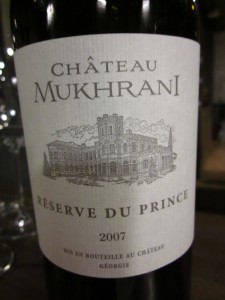 The sixth wine was the Reserve Du Prince which was oaky with depth.  The other four wines tasted young and immature (but great) in comparison to the Reserve!  I didn't care for this bold red, myself.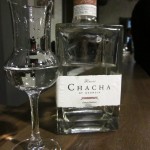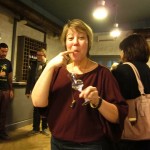 We finished the tasting with a Muscat (dessert wine) and shot of Chacha which is the Georgian equivalent of Grappa (or Moonshine in my book)!  Each was served in its own special glass.  The winemaker made a farewell toast and we were all feeling pretty darn good by th etime we departed as documented in a few photos of my fellow wine blogger friends.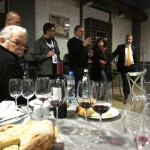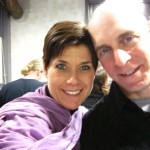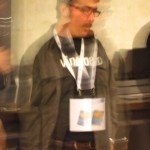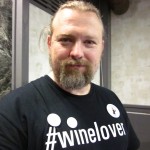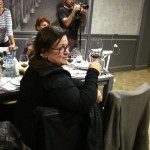 When I was at Château Mukhrani, it was quite an overcast and chilly autumn day, so my pictures don't give the landscape adequate justice.  It is lovely countryside, rolling hills amongst farms of cabbages, peppers and tomatoes.  We drove through a very, small town equipped with the essentials — grocery store, barber shop, butcher with hogs head and rear end hanging outside.  These sites greeted us as we drove to and from Château Mukhrani.  There appeared to be many empty houses as well that looked ready for purchase and with a bit of DIY elbow-grease, could be turned into lovely countryside getaways for Tbilisi businessmen and their families…"or foreign couples wanting a vacation home in Georgia?!?" I teased my husband.  I can only imagine that if I have an opportunity to visit Château Mukhrani again in the very near future, not only will it look completely different, but so will this little nearby village – tourist gift shops, B&Bs, small restaurants, mani/pedi/coiffeurs, etc. are likely to spring forth from the ultimate success of the Château itself.  It's an exciting new era in Georgia history. The respect of tradition and culture is strong and hopefully won't be lost in the rush and desire for investment and development.  It was an honor to tour this up and coming Georgian vineyard which is sure to be a prime travel destination within the next few years!  I extend again my most sincere gratitude to the Georgian Wine Association for hosting us on our visit and introducing us to Château Mukhrani! http://www.gwa.ge/?7/284/
Disclosure: I tasted the wines of Georgia as a part of a sponsored blogger tour of the region, organized by  Georgian Wine Association.  My travel and accommodations were provided by the sponsor.