Today is Thanksgiving in the U.S.  But having just returned from a two-week trip to Turkey and Georgia that included every dining table filled with amazing (and endless) food and wine, Tim and I are spending a quiet and quite normal Thursday at home.  We both feel absolutely no need to do any feasting. It's not just the memories of full stomachs and satiated taste buds from our trip that leave us more than satisfied….Rather, I woke-up this morning reflecting on the gracious and grateful people we met in Georgia — those who shared of themselves, of their talents, of their passions — as if they were celebrating Thanksgiving every day of their lives.  I'm still reeling in astonishment, amazement at their quiet and peaceful joy in what we so often take for granted.  So, on this Thanksgiving, I'd like to share what I think was the most special and meaningful moment during my Georgian travels.
There's a tradition in Georgia that we were fortunate to experience. The tradition of the toastmaster or tamada, a male-dominated position (or so I gathered), who not only filled the role of host, but also that of poet, entertainer and wise elder — all rolled up into one.  My first experience with a Georgian tamada was just over one week ago in the capital of Georgia — Tbilisi at a wine bar/restaurant called Azarpesha. Azarpesha is the Georgian word for a wine ladle from which the tamada drinks his wine. Our host was LoireSaab (I'm spelling his name phonetically, obviously not in Georgian due to a lack of Georgian characters on my computer keyboard). My initial impression of LoireSaab was = a handsomely-macho looking, successful entrepreneur of Tbilisi's elite class. However, within minutes of him addressing us and welcoming us into his home (for that's how he treated his business establishment), motherland and life — he became the embodiment of the loving and warm Georgian people.
Georgians have been invaded and conquered throughout their history — even as recently as 2008.  LoireSaab mentioned to us that Georgia was in captivity for 200 years!  Prior to our trip, I had expected to find people worn down, protective, not readily-open to sharing of themselves or their culture, and maybe a bit sarcastic about life — I mean they had to endure decades of Soviet occupation – how could one come out unscarred from that?!?  LoireSaab and every Georgian we encountered — were the complete opposite of my preconceived notions. To date, I had never encountered a people so grateful of EVERYTHING!
With each toast, LoireSaab celebrated and gave thanks to God, family, wine, love, friends, his country and the many countries we represented,…and it went on and on. His passion and sincereity echoed in every word. This is sounding very mushy, I know, but it was the real and moving experience that I had.I kept tasting notes on my iPhone along with quick mentions of LoireSaab's toasts.  Four of the five wines we tasted with our lunch were qvevri wines – meaning that they were aged in qvevri or a clay vessel stored underground along with bits of the whole grape (skin, seeds, some stems) which adds a much more rich and unique flavor to the wine.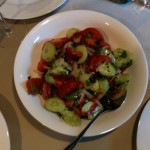 The first wine we tasted was a Tsolikouri. It's a chilled white wine whose crispness went perfectly with the traditional cucumber & tomato salad and two cheeses (little funnel-shaped cheese was cottage cheese rolled in phyllo-dough).  LoireSaab's toast was to "bring a message of peace…Georgia is a safe place."  His strong, yet polished appearance melted away as his warm and endearing message brought tears to my eyes…I wasn't the only one either.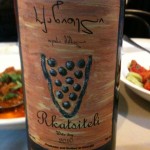 The second wine was a Rkatsiteli. It's smokey, amber color was beautiful.  LoireSaab's second toast was to wine – "our inspiration in life. On good days and on bad days, wine was one of our saviours." He shared that Georgians don't get drunk because it's seen as a waste of wine. His toast celebrated also everyone that's connected to wine, so it became a toast "to everyone!"
After the second toast, LoireSaab introduced us to another Georgian tradition that of  Georgia Sarkartvelo.  Georgians with "talented voices" are "demanded to sing" or perform and share their gift. Sakartvelos require at least three voices. LoireSaab was joined by two younger, male friends of his. The first Sakartvelo was taken from the church in the northern region of Georgia and LoireSaab summed it up by saying the words of the song are an expression that "we wish you many years." Sarkartvelo 1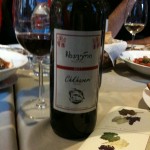 With our third wine, we moved on to reds with a Chkhaveri. The vine of this western Georgia grape variety grows up trees and is still a somewhat wild grape. The wine's smell wasn't so good and the taste was like a watery, stinky cheese — which sounds bad, but was drinkable — just not my favorite.  LoireSaab's third toast was to the family, the art of living and for all our loved ones. Nina, his wife, also arrived and joined the three men for the second Sarkartvelo.
Sarkartvelo 2
 The words of the song were taken from those of a 12th century poet "rose where did you get your beauty?"  It is a song dedicated to one's lover from the western regions of Georgia.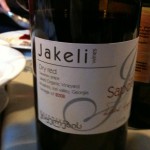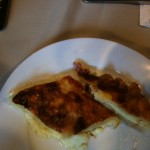 The fourth wine, a Sapheravi, was not stored in a qvevri, but was a natural wine. It was a good, strong red wine that went great with the warm cheese bread, aubergine (eggplant) and mushroom stroganoff (of which I lost track of how many servings I consumed!).  The fourth toast was to friendship. LoireSaab said, "We don't choose family [or] even our country," but we choose our friends. He raised his azarpesha "to new friends" and said, "life is short, give joy to one another." He followed up this toast with another Sarkartvelo – you can hear LoireSaab speaking briefly at the beginning of the song – which he said is dedicated to the mother of God.
Sarkartvelo 3
I somehow missed getting a picture of the fifth and last wine – a red Chkhaveri. The last toast accompanying this wine was a toast "to curiousity…for people looking below the surface for something different, for the future and your for your desire to find something new," said LoireSaab.
The final song was about springtime with words coming from an old poem. This Sarkartvelo shows the western-Italian influence on Georgian music. LoireSaab shared that, "invaders would come to destroy Georgia but afterwards when Georgians recovered, they would take  something from every invader" to add diversity and richness to their own culture. Sarkartvelo 4
LoireSaab said that today "there are few tourists, so it's a good time to be in Georgia" — I could not agree with him more!  A more grateful and giving people, I've yet to meet!  May your Thanksgiving toasts be as heartfelt and enriching!
Disclosure: I tasted the wines of Georgia as a part of a sponsored blogger tour of the region, organized by  Georgian Wine Association.  My travel and accommodations were provided by the sponsor.